2015 Show Dates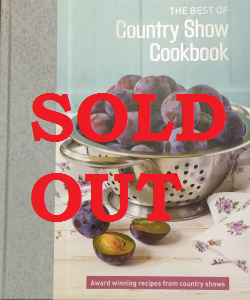 2016 Show Dates
22-24 April 2016
The Best of Country Show Cookbook is a selection of award-winning recipes from the country.
Many are traditional, home-baked recipes handed down from generation to generation.
These tried and tested recipes compiled with the assistance of the Agricultural Societies Council, the parent body of the 195 agricultural shows held each year throughout New South Wales, will be a welcome addition to every serious cook's repertoire. The Best of Country Show Cookbook is available now from the Coffs Harbour Show Society for $35
PS Included are recipes from Lyn Sjolander, Cassandra Goodworth & Kae Anforth who are all friends of the Coffs Harbour Show
Coffs Harbour Show Society Inc.
Annual General Meeting
Monday 7 September 7pm start
C.ex Coffs – Vernon St Coffs Hbr 
Welcome to The Coffs Harbour Show Society :: 22-24 April 2016
In 2008 a small but enthusiastic group of people came together to turn our Show into an exciting and affordable event that would be attractive to families. During this time our Shows have been nothing less than spectacular. For a small entry fee our patrons have been given a large program of free entertainment set in a carnival atmosphere.
Our Exhibition Pavilion has been filled with double the number of previous entries. The horses still have centre stage but are surrounded by a variety of child friendly entertainment, local and multicultural food, farm animals, side shows, a variety of stalls and trade displays.